Choosing the Right Shower Wall Panels for Your Project
Shower panels can make or break someone's showering experience. A bad choice can end in mold, discoloration, breakage, or a delayed project. A mediocre one can result in just plain boring or inferior design. This comprehensive guide covers everything you need to know about shower panels for your commercial project - from design options and materials to installation and more.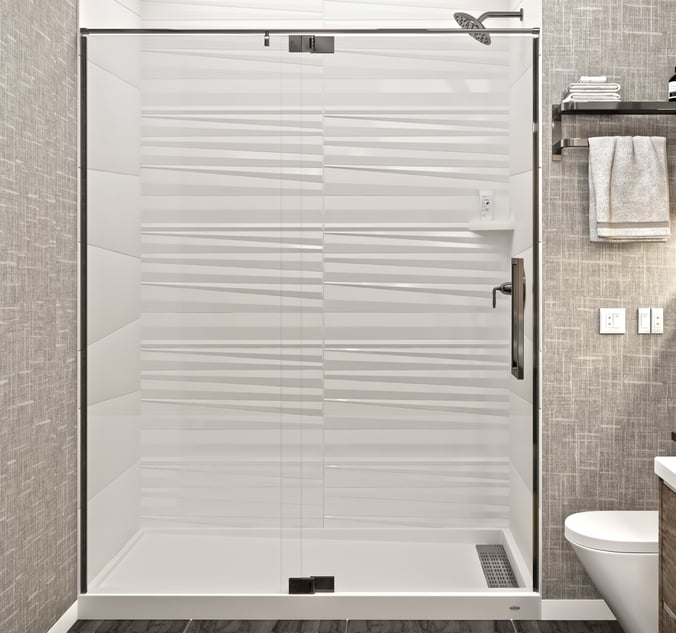 In this post, we'll discuss the different tub and shower surrounds typically found in hotels, apartments, and condos. If you're considering tile, there are endless options - but those come with a cost. You'll see that shower materials like cast marble also offer stylish designs, including artistic monolithic panels - without costly maintenance and a lengthy installation.
Common Materials for Shower Walls
When it comes to wall panels, commercial properties have a variety of material options, each with its own pros and cons.
Fiberglass – This material is commonly found in multifamily projects. It's lightweight, affordable, and groutless. However, it's typically not as durable as other options and can be prone to discoloration, cracking, and fading over time. And, if you're looking for great design, fiberglass doesn't offer much variety, nor does it offer realistic-looking tile and grout lines. Another factor to consider - due to its hollow shell and lack of substrate behind the shower walls, fiberglass does nothing to dampen the sounds coming from pipes. For more, read 5 Ways Cast Marble Outshines Fiberglass.
Acrylic – Acrylic is more durable than fiberglass, and it's resistant to mildew. However, it can be relatively expensive comparatively. It's also lightweight and groutless, making it easy to install and clean. This also means it can seem flimsy, and just like fiberglass, it features a hollow shell and a lack of design options. These products don't meet the technical requirements of some hotel brands, because they might not withstand high traffic.
Cast marble- Made from crushed marble and resin, cast marble is solid like tile with a consistency similar to concrete. Its luxurious appearance and minimal maintenance make it an appealing choice. Multi-unit properties enjoy the low daily maintenance that comes with fiberglass and acrylic panels but with added durability and design. Unique designs, textures, and realistic-looking grout lines make it an optimal choice for design-conscious hotels, condos, and apartments. Permanently sealed due to its gel coat surface, these walls are stain-resistant and never require regrouting, resealing, or professional restoration.
Solid surface – Solid surface is a blend of proprietary fillers and resin, however, it's usually more expensive and designs are very limited. You'll typically find solid surface available in solid or speckled colors with some veining. This material is often seen in hospitals and medical settings due to it being seamless.
Quartz slabs – Quartz is very durable but can be expensive. Depending on available slab sizes, you risk having visible seams on the back shower wall, and there's a lot of opportunity for excess material waste. The weight of these slabs can also increase freight costs and make installation difficult. Compared to other available materials, quartz might not be the best option for a shower application but may be better suited for countertops.
Porcelain and Ceramic Tile – Tile allows for endless design and color options, but it comes with tradeoffs beginning with a lengthy and costly installation process. From mudding and tiling to grouting and curing, installation is labor-intensive. Down the road, the owner or operator will be regrouting and or resealing due to mold and mildew.
Laminate – These shower walls typically feature high-pressure laminate with a wooden core and vapor barrier backing. This material allows for a variety of designs and colors, as well as simple installation and maintenance. However, quality can vary immensely, and designs can look fake. And, when it comes to moisture ingress, designers may want to stick with options that have been time-tested in high traffic commercial properties.
Thickness of Panels
If you're worried about moisture, thickness isn't as much of a factor as the material itself and how your shower panels are connected. In the cast marble world, it's important that the thickness across panels is consistent. Cast marble of varying thickness makes it much harder to seam the panels. This increases installation time, labor cost, and the chance of breakage. If you choose cast marble for your shower walls, be sure to choose a manufacturer known for delivering quality panels.
Shower Surround Designs
When deciding on a shower design, you might be surprised at the variety of panel styles. When selecting a design, always request samples. If you're considering materials like fiberglass or laminate, the grout lines and tile design may look and feel different online than in-person.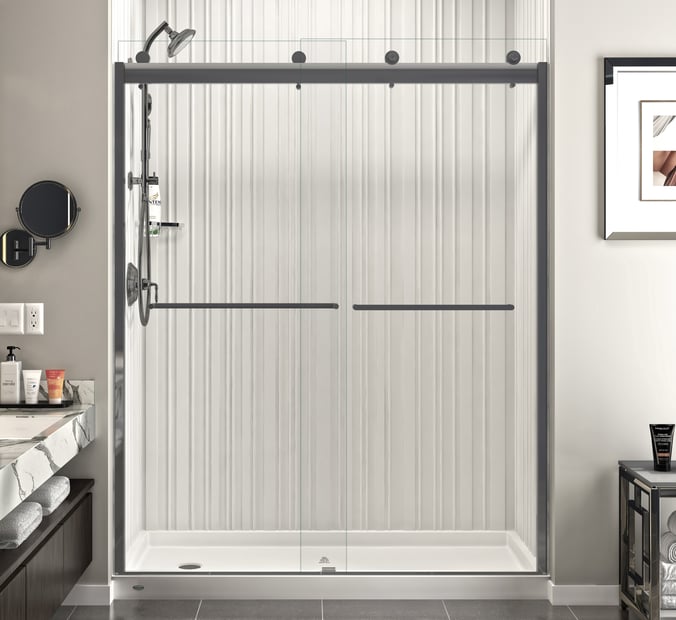 Vertical Interval panel
Some styles to consider:
Large format tile patterns can help make a space appear larger and give your guests a spa-like showering experience. (see: 12 x 24 Contemporary)
Subway tile patterns are always a classic choice. They also make it easy to design the rest of the bathroom. (see: 3 x 6 Subway)
Textured options can create movement and add warmth to a space. Textures can be found in large format tiles and geometric patterns. (see: Vertical Vision)
Geometric patterns like Theory and Stars help to bring character the space. Create a standout shower that leaves a lasting impression.
Colors
Not surprisingly, white is a very popular color for shower walls. It never goes out of style, and it simplifies other bathroom selections– like paint, towels, and flooring. White showers also tend to look more hygienic. They can also create a brighter space. After all, no one wants to relax or freshen up in a dark, dingy bathroom. However, muted neutral colors are gaining popularity as alternatives to white.
Sizes
When ordering shower panels, you'll need a panel for each covered wall. When designing a shower for a hotel, condo, or apartment property, consider bringing the walls all the way up to the ceiling. This can prevent mold growth on the drywall, and it saves the owner or manager from having to paint the wall above the surround. Another bonus – taller panels can make the shower and bathroom appear larger.
If you're installing a tub, Mincey can block shower panel molds to make shorter surrounds for your tub, eliminating excess waste.
Fiberglass and acrylic panels, including those one-piece shower kits, are typically 84". A note regarding those full shower kits – they're much larger to ship compared to wall panels, requiring more truckloads of product on the jobsite.
Mincey panels are made to order and can accommodate 96" - with some designs even higher. Widths also vary – a 62" back wall is common in hospitality. Sizing varies more widely in multifamily properties (36", 42", 48", 54").
Always check with local building codes, ADA requirements, and FHA/HUD regulations regarding minimum shower sizes.
Shower Wall Installation
Installing shower panels is a breeze compared to tile. No endless cutting of tiles. No grouting, curing, or sealing. Your property can open its doors (and start collecting revenue!) sooner.
Most shower surrounds come in one-piece panels or as all-in-one tub/shower combos. They're installed using a 'glue to wall' (or 'dot glue') method - typically with some sort of adhesive – or a 'direct to stud' method. Some products require a combination of both. Tile, quartz, solid surface, and cultured marble are adhered to substrate, while fiberglass and acrylic units are installed directly to the studs or via a combination of adhesives and mechanical fasteners.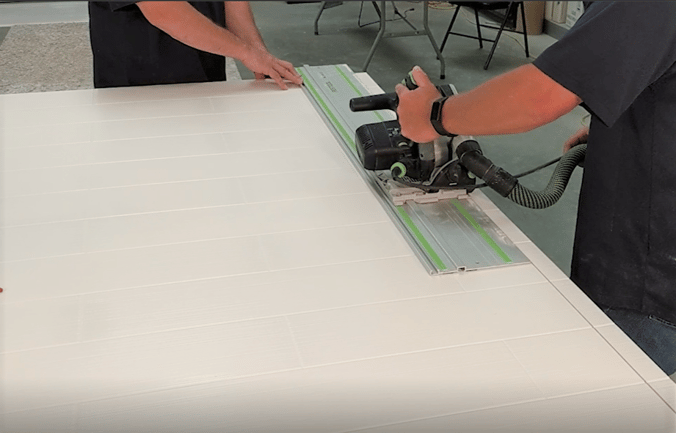 It may be simpler than tile, but panel installation shouldn't be taken lightly. A skilled craftsperson should know how to install slabs or panels without chipping the product or damaging walls and ceilings. At Mincey, we highly recommend you use our certified installers. They've been trained how to handle, cut, and install our product. We also invite anyone who might install our panels to be trained at our facility.
Mincey's cast marble one-piece panels come oversized. They're cut onsite and then installed using cast marble adhesive (dot glue method). The installer finishes the job by caulking with 100% silicone around the joints.
Shower Accessories
Accessories should be seen as part of the shower design – not as an afterthought. When you're actively considering the needs of your guests (or tenants), you'll leave a lasting impression. After all, who wouldn't appreciate a footrest to make shaving easier (and safer)? And when you plan for a shampoo shelf or niche from the beginning, it all fits seamlessly into the design.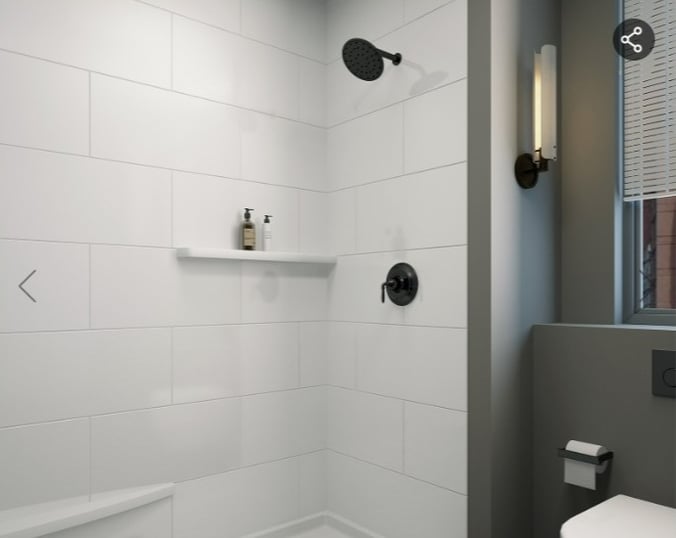 Showers made of fiberglass and acrylic offer the convenience of having built-in accessories that don't require installation (they're part of the mold). However, you forfeit design flexibility (i.e., shelf and footrest locations) and the look of real tile walls (if that's your goal). Be sure to take these factors into account when deciding on what shower material is best for your project.
For most other materials, accessories are attached after panel installation. Smaller cast marble accessories are simply installed onto the panels using silicone and hot melt glue, while larger ones require included hardware. Most Mincey footrests, niches, and shelves are made from cast marble and match the panel's color. Learn more in our post about selecting essential accessories for your project.
Maintenance
If you're foregoing tile on this project, your future guests (and housekeeping staff) don't have to worry about mold, mildew, and regrouting. But how do the other shower surrounds stack up when it comes to daily and long-term maintenance?
Soap and water is recommended to clean most of the materials we've discussed. Some can tolerate more abrasive cleaners than others. For example, fiberglass can't handle harsh cleaners or scrub brushes, while some acrylic showers can. It's also typical for fiberglass and acrylic to require costly restoration periodically or in-between tenants.
Laminate shower walls can also be cleaned with non-abrasive cleaners like vinegar, while solid surface shower walls can tolerate common cleaning products (not window cleaner). Always check the manufacturer's care instructions.
Cultured marble requires little to no maintenance. This material is non-porous, stain-resistant, and durable. To clean these panels, simply use soapy water, a window cleaner with a soft cloth, or even a Magic Eraser™. Cast marble is easily deep cleaned in-between tenants. For any tough stains, like hair dye, you can simply apply acetone and a soft bristle brush.
Most of the shower wall materials we've talked about require very minimal daily maintenance since they're groutless and non-porous. Be sure to check the manufacturer's maintenance instructions for information on how to care for your product.
Class A Fire-Rated
MINCOR™ was developed by Mincey Marble to meet the needs of those that face building codes requiring tub and shower panel systems to be fire-rated.
All Mincey panels are available in both MINCOR™ and Mincey Classic (w/o MINCOR). MINCOR is slightly more expensive than Mincey Classic and is optional unless your brand or local codes require it. While the look and durability of both are identical, the formulation is slightly different.
If your project requires fire-rated shower walls, make sure specified products are in compliance.
With so many shower surround choices available, it can feel overwhelming to find one that best suits your project. Fortunately, cast marble offers many designs and textures with maximum durability - and simple installation means welcoming your guests sooner.
If you're ready to explore the next part of your shower project, check out our guide on shower pans.