5 Ways Cast Marble Showers Outshine Fiberglass
As more property owners realize the importance of high-end shower solutions, cultured marble has become a top choice for shower pans and surrounds. This material is quickly capturing the attention of multifamily developers and operators due to its lack of maintenance between tenants. Plus, its design and durability far surpass other materials. In this post, you'll see why cast marble outperforms fiberglass for commercial showers in five very important ways.
1. It's more durable
Mincey panels and pans are made from solid cast marble for ultimate durability. Made from ground marble and resin, they're made to withstand guest after guest, tenant after tenant. Made for commercial use, our shower pans weigh around 200 lbs (and only require a simple 'drop-in' installation) with a gel coat surface that is extremely durable and easy to clean. Fiberglass shower units feature hollow plastic bodies, increasing the risk of breakage during shipping, installation, and use. It's also common for hairline cracks to develop, which can cause water seepage. It's important to get these fixed immediately; however, repairing your fiberglass tub or shower can be expensive and require professional restoration.
2. It's easier to clean
Both Mincey and fiberglass showers require little to no maintenance thanks to being groutless. No need to regrout or seal with either of these products. Although it requires only something as simple as soapy water or an ammonia-based cleaner like Windex™, cast marble can be cleaned with almost any cleaning agent, and it won't damage the finish. Acetone can even be used to remove deep stains (see care instructions). Fiberglass features a softer finish which harsher cleaners will ruin, and it's not easy to make repairs. It's common for restoration to be needed in-between tenants, which can be time-consuming and costly.
3. It looks better
Cast marble can create showers with geometric designs. exciting textures, and tile-like patterns. Fiberglass showers are much more limited in design. You'll typically find these showers available with either smooth, plain walls or in traditional tile patterns. Although both products are groutless, Mincey tile patterns feature the indistinguishable look and feel of real grout. It's obvious that fiberglass shower walls aren't tile – not only because of their plastic look, but accessories like shelves and soap dishes are actually part of the mold. Cast marble shelves and footrests are attached to shower walls after installation. Our panels can also extend to the ceiling for a more authentic look.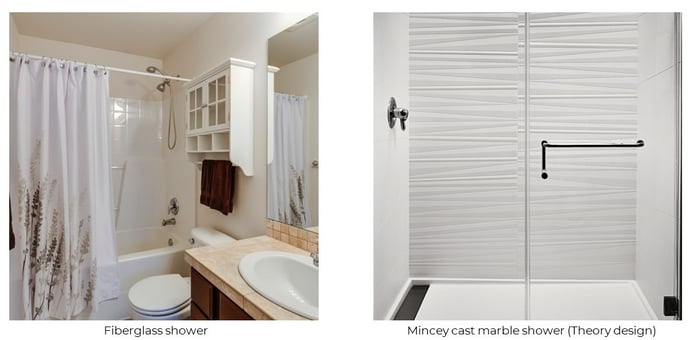 4. It feels better
Cultured marble offers what fiberglass can't – textured surfaces. In a shower stall, guests can really examine the elements around them. In a tile pattern, realistic grout lines are so important – they should look and feel real. Mincey also offers many patterns where texture is the main attraction. For example, some glossy tile patterns feature a wavy design to simulate hammered tiles (like Herringbone). Some patterns feature horizontal and vertical lines, creating a very textured surface (check out Vertical Vision). Theory (shown above) is a unique geometric pattern that stands out for its unique design and texture.
5. It has a long lifespan
The durability of cast marble, along with its beautiful and timeless designs, ensure a long lifespan for your shower. Although more inexpensive in the short-term, fiberglass can't match cast marble's high level of durability and number of timeless designs.
Cultured marble is the clear choice when it comes to commercial projects. Not only is it more resilient and stronger than fiberglass, but its ability to create beautiful designs makes it a sought-after material for showers. And because it's low maintenance, hotels and landlords can promote beautiful showers that don't require much time or effort.
Learn more about shower walls and pans.