Protect Your Shower Panels, Pans, and Doors on the Jobsite
It's a scenario any contractor wants to avoid. Your team is ready to install the shower and tub surrounds of a new multi-family property. Left outside for months, they're now warped and unusable. You now need to order replacements, delaying the project even longer. Avoid headaches like these by following these precautions when storing and handling shower panels and pans.
What to expect
First, schedule your delivery as close to the installation date as possible. Your products will then arrive on a flatbed truck, packaged in crates made from real wood for the best protection possible. You'll need a forklift with 6' long forks to move the crates.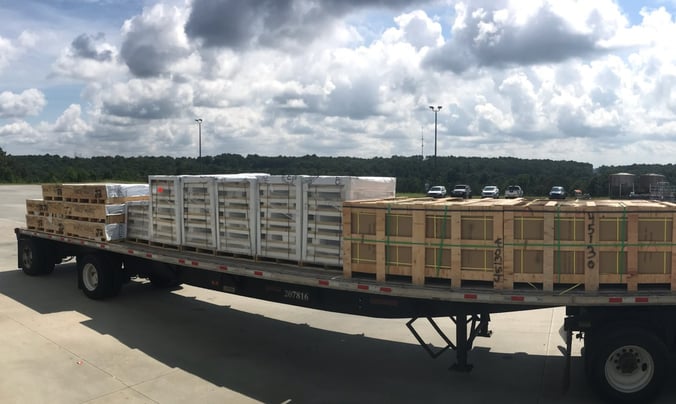 Storing your product
All product should remain in the original crating until the time of installation. We recommend storing all material indoors if possible. If outside is the only option, place the crates on a flat surface and cover with a heavy tarp.
If kept in colder temperatures, move material to a heated area at least 24 hours before installation. Cast marble is known for its durability, but it can be more fragile in cold temperatures (below 50° F). It should be handled with care in these conditions. We recommend you install the product within 30 – 60 days of receiving. If left outside for too long, outside factors like humidity levels can affect the wood crating - warping or bowing the material.
*A note about MINCOR Fire Rated products: MINCOR™ items shouldn't be exposed to direct sunlight or stored in extreme heat/humidity for any amount of time.
Shower pans
Ordering shower pan liners is the best thing you can do to protect pans during construction. They protect the pans from debris and sharp objects during the construction phase. Made from acrylic, they're molded to fit each product (roll-in pans feature an acrylic cut sheet) and come already installed.
Shower doors
Mincey Marble's shower doors and fixed glass are packaged in wood crates and generally shipped in covered trucks or containers. You'll need a forklift with 6' long forks or fork extensions and a minimum lift capacity of 5,000 lbs.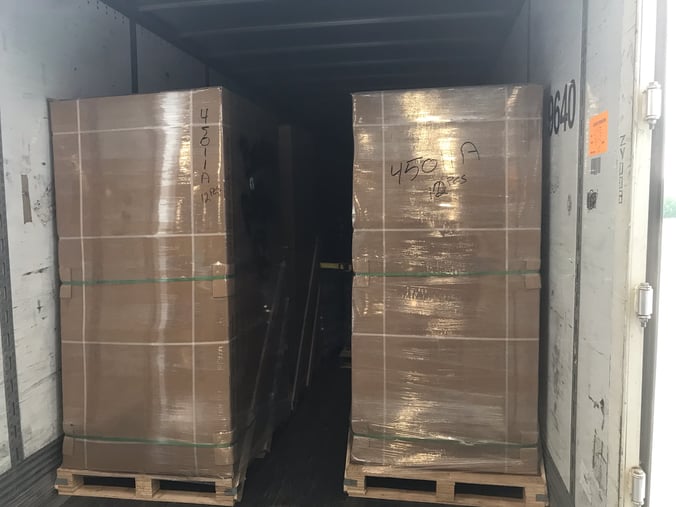 If you're storing the shower doors outside, place them on a flat surface and cover with a tarp.
Please handle shower doors with care. Tempered glass can shatter if dropped or if the sides or corners are tapped or hit.
Tip: once uncrated, a sheetrock dolly may be a convenient tool to maneuver panels and doors around the jobsite.
Upon placing your order, you'll receive more detailed instructions on storing your Mincey products. And, you can always contact us for additional guidance.