Making Waves: Cast Marble Showers with a Handcrafted Look
The look of handmade tile isn't just for high-end residential kitchens and baths. It can add so much character to commercial shower walls. To recreate it, we adapted the style into cast marble panels - Herringbone and 3 x 20 Stacked Wave. Hotels, apartments, and senior living communities can now build groutless showers with character.
Herringbone
Dating back to the Roman Empire (or earlier), the Herringbone pattern has been used in everything from weaving to floor tiles to roadways. And its popularity isn't losing steam. This V-shaped pattern is especially popular in flooring and backsplashes. It was definitely a showstopper at our booth at BDNY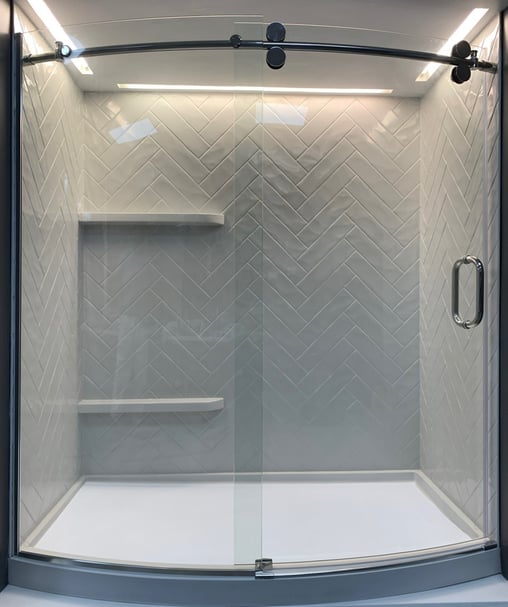 This new shower panel design features 3 x 12 tiles in the classic Herringbone pattern. Its glossy, wavy texture adds another level of dimension and interest to the space. Showers or tubs larger than 60" include a 6" listello.
A Note About Herringbone vs Chevron
Chevron and Herringbone patterns are often mistaken for one another. You can spot the difference by looking for the grout lines. The shorter edges of each Chevron tile line up with each other to create straight 'grout' lines. The shorter edges of Herringbone tiles lie alongside the longer edges – resulting in the absence of straight grout lines.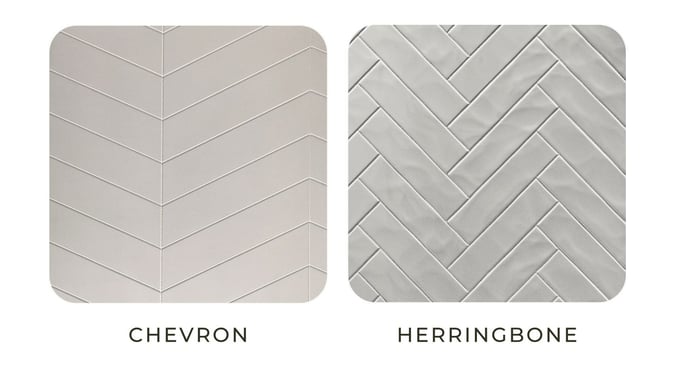 3 x 20 Stacked Wave
This new wavy tile pattern could be mistaken for the work of a skilled artisan. 3 x 20 Stacked Wave features vertical 'tiles' in a classic stacked pattern but with a handcrafted look. These shower walls add character without being too flashy.
Order a sample of 3 x 20 Stacked Wave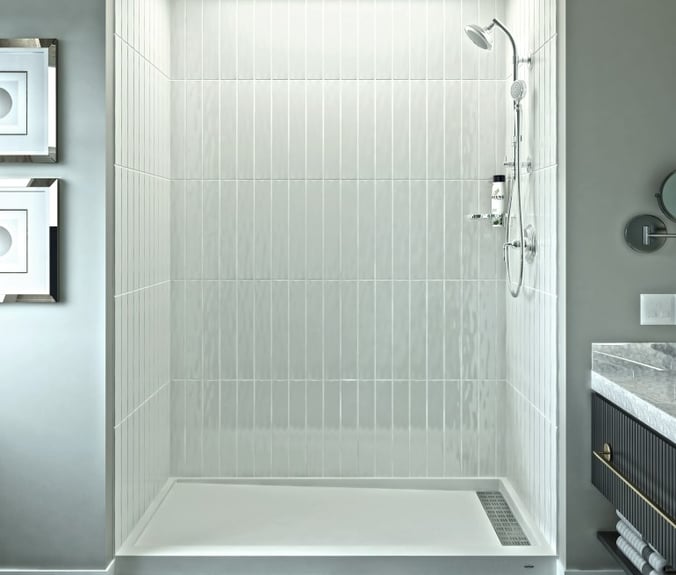 If you love the look of handmade tile for your next hospitality or multifamily project, our cast marble panels offer the optimum solution - a high-end look with low maintenance.
High design. Low maintenance.
Groutless, worry less
Non-porous, durable
Sanitary
Simple installation
Not interested in the tile look? Learn more about wall panels in our shower panel guide.