Drain Locations for Commercial Shower Pans
Browse through our large selection of cultured marble shower pans, and you'll notice the variety of drain locations available. How do you know which is best for your commercial project? We explore the different types of drain locations, so you can make the best decision for your project, whether it's for a multifamily renovation or a new senior living facility.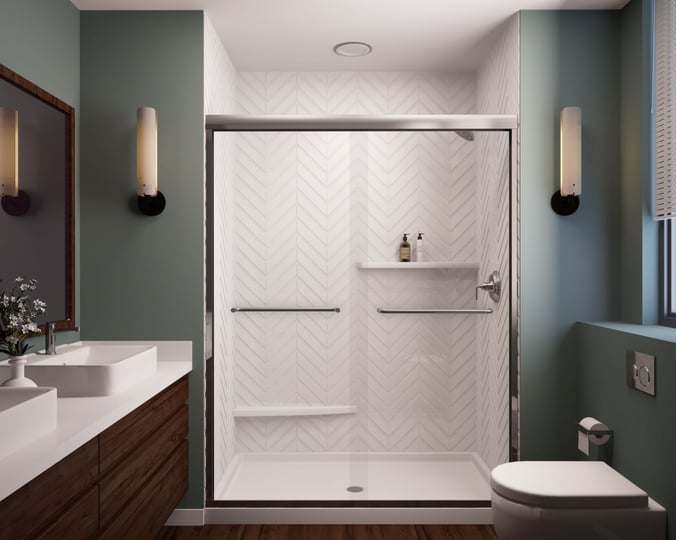 Your drain location is largely determined by the existing plumbing. In a project like a hotel renovation, you might not have the same kind of flexibility as new construction. If this is the case, be sure to check out our renovation pans for tub to shower conversions. You can also learn more about choosing the right shower pan for your commercial project in our guide.
The pan's size, shape, and drain location should satisfy the needs of the property and its residents. Let's review the basic drain locations you'll need to consider.
Trench drains
Trench drains, or linear drains, are particularly well-suited for larger shower areas. Placed alongside the wall or entrance, they feature an elongated channel that provides a continuous draining surface. The shower pan itself slopes in only one direction, towards the drain.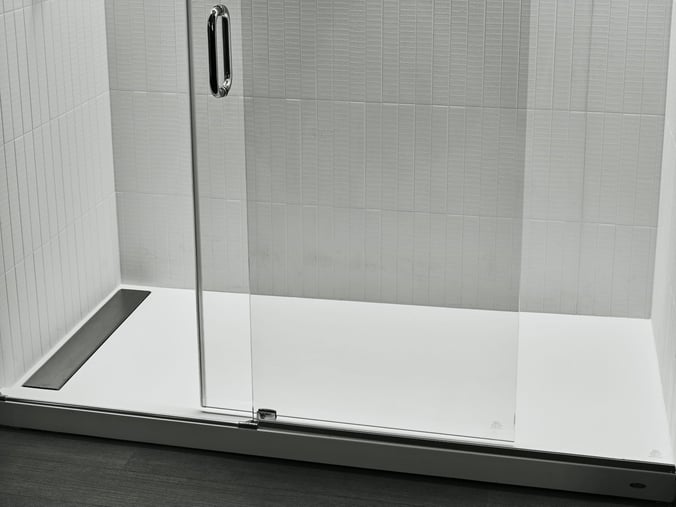 These drains provide numerous benefits to commercial properties looking for a sleek, modern, and low-maintenance shower. Not only do they look beautiful, but their placement away from the standing area creates a more pleasant showering experience. They're also easy to clean - simply lift up the cover for access.
The downside? Linear drains are typically more expensive than standard circular drains. However, their innovative benefits make them an excellent choice for properties like hotels that are looking for an easy-to-clean and stylish upgrade to their guest bathrooms.
Center drains
Circular drains are typically the most cost-effective and versatile type of drain. Center drains are compatible with most standard showers - even oddly shaped ones – so you'll find them almost anywhere. In this design, the shower pan slopes from all directions down to the center of the pan.
The biggest con to this drain is that it's in the middle of the pan – meaning users stand directly over it while showering. If you'd like to avoid this scenario and give guests a more luxurious experience, consider designing a shower with a linear, corner, or offset drain.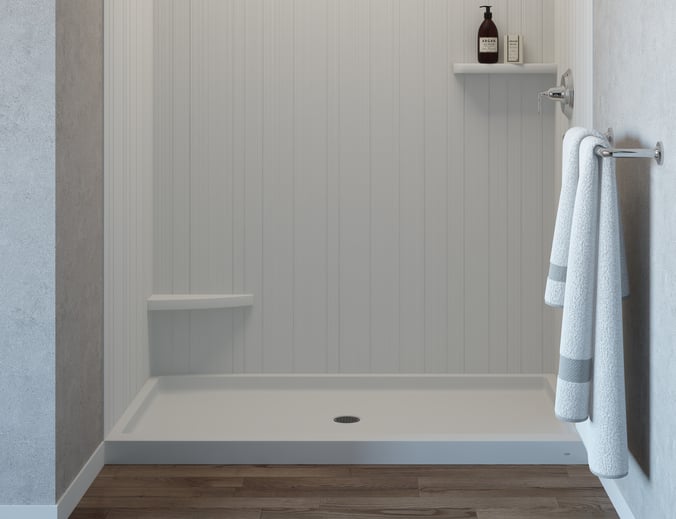 Corner and offset drains
Although less common, these drain locations make for visually appealing and highly functional showers. Offset and corner (circular) drains are not the center of attention, giving the shower a cleaner, more minimalistic look.
More importantly, guests and residents don't have to stand on the drain while showering. Because they're 'out of the way,' these drains create a safer and more comfortable experience. They can also be used when obstructions in the existing infrastructure (like during a renovation or adaptive reuse) prevent the installation of a traditional center or linear drain.
When specifying Mincey pans with circular offset drains, you'll notice a measurement in the product name (i.e., 36 x 60 Pan - 10" Offset Drain). This denotes the distance from the wall to the center of the drain.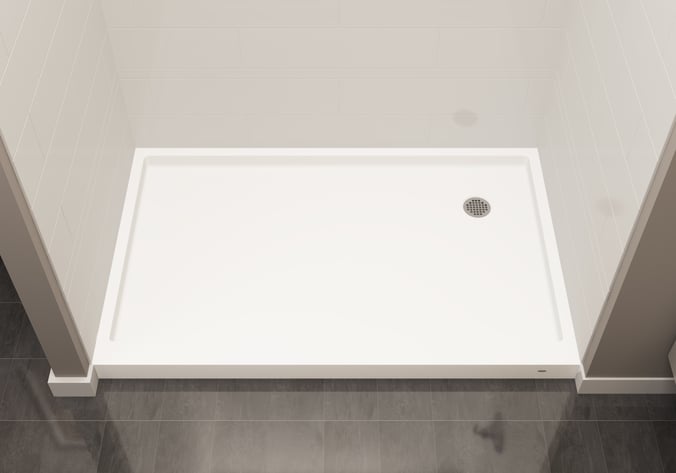 Drain covers
Mincey provides solid and decorative covers for our trench drain pans. These durable products are crafted from quality stainless steel with an option to upgrade to one of several powder coated finishes. These colors blend in with the pan - a great solution if you're coordinating metal finishes in the bathroom or shower.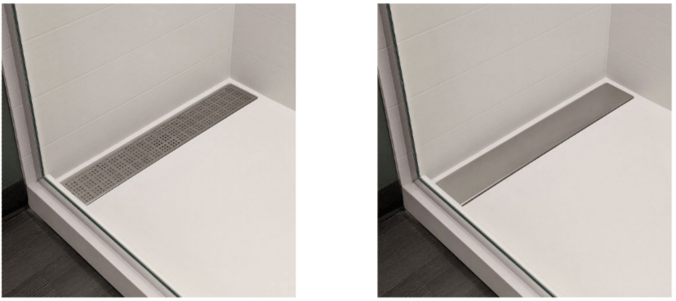 Regardless of your choice, make sure your decision aligns with the needs of your property and its occupants. For elevated design and easy maintenance, linear drains are an ideal option for hotels wanting to impress guests. Corner and offset drains can be more cost-effective yet still provide a pleasant user experience.
Mincey offers over 60 cast marble shower pan options; however, we know each project is unique. If your project needs a unique size or specific drain location, we can meet your requirements.
Recommended drains
Mincey doesn't supply drains or circular drain covers, but we recommend using the below drains with our shower pans:
Sioux Chief Mfg. model: 825-2P – PVC

Oatey part number: 42045 – PVC

Oatey part number: 42150 – Brass

Kohler model: K9132 – Stainless Steel